COSMETOLOGY ORIGINS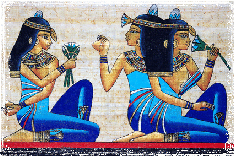 When I began my journey into the history of cosmetology, I discovered that my local library did not produce anything about the origin of the field of cosmetology or hair history. The internet, on the other hand has numerous sites that will take you back through the eons of time to discover the history of cosmetology and hair history. It has been jokingly said that Cosmetologists are the 2nd oldest professionals in the world because someone had to take care of those in the oldest profession.
Though it is probably true that ancient beauticians probably did take care of the oldest professionals I am certain that the earliest uses of cosmetics and hair design are linked to Royalty, and members of high society and many times religious ceremony. Eventually through time it became a part of all of our lives in one way or another. Everyone can use a hairdresser; men, women, girls and boys. And though spa treatments are popping up all over the world like never before - Spas are nothing new. Egyptians, Romans and Greeks are well known for their use of essential oils and bathing systems.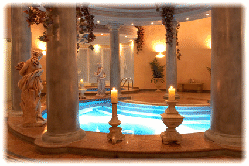 QUOTE - The earliest use of cosmetics has been traced to the ancient Egyptian, who invented a number of cosmetic, herbal, and fragrance preparations for use in their personal grooming regimens as well as in religious ceremonies and burial rites. The Egyptians were the first to develop methods for extracting herbal and flower essences through distillation, which is still the preferred method of extracting essential oils today. The Egyptians believed in cleanliness and built elaborate systems for bathing that were later adopted by the Greeks and Romans - END QUOTE. Quote taken from Milady's Standard Fundamentals for Estheticians ninth edition, page 5. This book also gives a brief history on the cosmetic and hair grooming practices of the Hebrews, Greeks, Romans, Asians, Africans, The Middle Ages, The Renaissance, The Victorian Age and the 20th century.

The Egyptians paid a great deal of attention to their appearance. Women spent a lot of time soaking in baths, massaging oils and perfumes all over their bodies. They used their numerous cosmetic materials to apply their make-up and fashion their wigs. Women applied khol to line their eyes and eyebrows to make their eyes appear larger and more intense. They used a brush or stick made of a reed to apply it. Men wore this eye make-up as well, which was not only a fashion but also protected against the eye infections which were common in Egypt. Kohl is a silver- white, hard, crystalline, metallic substance related to arsenic and tin that is used a lot in chemistry and medicine. In ancient cosmetic practices, lamp black was used on the eyebrows and eyelashes to make them appear darker, and it was also used as eye shadow. Also, red oxide of iron was used in face paint and red coloring for the lips. Many of the ingredients used in ancient cosmetics would be extremely dangerous by our modern standards.
---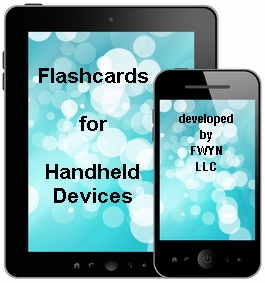 Esthetics Exam Flashcards:

Flashcards for smartphones, tablets and computers with the KINDLE app: Android, Apple, Windows. These flashcards are wonderful for esthetician students who need help through school or to help their memory for the state board exam! Also, check out the interactive online cosmetology, esthetics, barber, manicuring, or natural hair care and braiding exams below to help prepare for the state board exam.
---
---
Egyptian hairstyles were diverse according to age, gender or social status. Children's heads were shaved off or cut short except for a long lock of hair left on the side of the head, this s-shaped lock was the hieroglyphic symbol of youth.

Children wore this style until puberty. When boys grew older they shaved their heads frequently, while girls wore ponytails that tumbled down the center of the back. Egyptian men had short hair with ears visible. Another hairstyle for men was distinctive short curls covering the ears. Women's hairstyles were more distinctive than men's. Women generally preferred a smooth, close style with a natural wave and long curl. Women in the Old Kingdom preferred to have short cuts or chin length bobs. However in the New Kingdom they had long hair or wore a wig.

Women often fixed and decorated their hair with flowers and ribbons. A golden lotus blossom was the favored adornment. Poor people used inexpensive adornments made of petals and berries. Children decorated their heads with amulets of small fish to protect from the dangers of the Nile. Children sometimes used rings or clasps. Ancient Egyptians put headbands about their heads or held their hair in place with ivory and metal hairpins. Wigs were very popular and worn by men, women and children. They put on a new wig each day. There were many styles of wigs. They could be curled or made with a succession of plaits. The primary function of the wig was as a headdress for special occasions, such as ceremonies and banquets. Only queens or noble ladies could wear wigs of long hair separated into three parts, the wig was called the goddress.
India Beauty Practices
In traditional India, under the caste system, people were born into their occupations. People learned the family trade and worked those jobs throughout their lifetime. The customary henna artists in India were Nai caste. Nai men were barbers, and did minor surgeries. Nai women, Naun, were hairdressers, henna artists, and also midwives.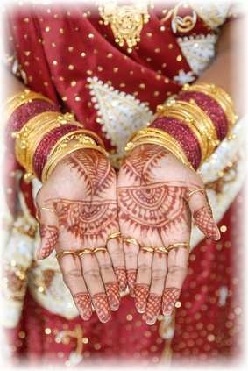 One Nai family would serve a whole town, or even a few little villages. The Nai man had recurring clientele. He would go from one house to another to shave the men and groom their hair and beards. His wife would also go from house to house to dress women's hair, and apply henna, lac, and kumkum. Naun were allowed to pass freely through the streets from one home to another. Because of this mobility, the Naun were used as matchmakers, carrying the descriptions of available sons and daughters to mothers wishing to find suitable mates for her children.

Earliest Known Faux Eyelashes
Faux eyelashes have been applied since early Hollywood film stars applied long and bushy lashes to create a dramatic look which appealed to their audience. At the beginning of the 20th century, false eyelashes were made of fringe. Fringe was painstakingly affixed to thread and by means of glue the faux eyelashes were adhered to the eyelid. These eyelashes were noticeably unnatural and did not stay attached for very long – only a matter of hours. The procedure to apply the fringe eyelashes was quite expensive and only famous people could afford it at that time.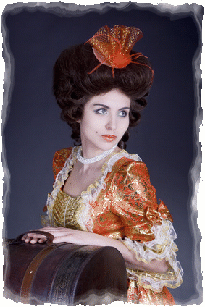 Hair Extensions
Hair extensions and hair additions are nothing new. Many women from the 18th and 19th centuries would save the hair that fell from their own head every day in a little jar known as a hair tidy. Hairpieces could be made from the lost hair – which of course was a perfect match. They would also form large balls of hair called rats from the fallen hair, which they could then place strategically within their hairstyle to create a big-hair look. You probably never thought of those as hair additions, but that is exactly what they were. Of course, modern day hair extensions are made of human and synthetic hair in a wide variety of colors and textures – but they can still provide that big hair look – just a bit sexier for the modern woman.

Early eighteenth-century hairstyles, were rooted in European royal trends, and were characteristic for their ornate use of wigs, hair extensions, crimping, ringlets, and powdering for both men and women. Decades prior to the American Revolution, United States women of the upper class echoed the high hairstyles of their European counterparts and used pads, wigs, cushions, and wires to make their hairstyles become towers of fashion status symbols. In the nineteenth century, ornate hairstyles progressively returned for women. Chignons, curls, and braids were all styles of the day, and women used wigs or hair extensions frequently to achieve their fashionable hairstyles. Between 1859 and 1860, $1 million worth of hair was imported into the United States for wig making! By the end of the century, hair extensions were commonly used for a top-knotted style that became known as "the Gibson girl."

The 1950s' and 1960s' bouffant and beehive styles, which required ridiculous amounts of hair spray, hair extensions, and padding, were noteworthy exceptions to the rule and somewhat reflected the towering hairstyles of the eighteenth and nineteenth centuries.
Vintage Asian Beauty Practices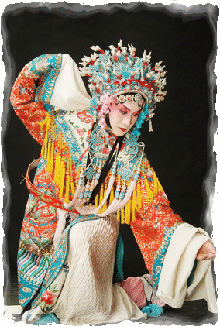 In ancient China beautiful nails were a prominent part of a person's image. In Japan the art of the Geisha and her makeup is centuries old, probably originating after 1600 A.D. The classic vision of the Geisha is her white face, red lips, dark eyes and ornate hair.

It is well speculated that "professionals" such as the Geisha were some of the first to wear makeup, yet the recording of history will always link the earliest known use of cosmetics and hair design to royalty and the wealthy. This is because they had the means to preserve a record of their lives or take belongings with them into the anticipated afterlife.

For instance, the delightful discovery of the tomb of Lady Dai, a Chinese nobleman's' wife found in the early 1970s on Mawangdui, a hill in China, revealed she used makeup. She was buried about 2,100 years ago. In her tomb were around 1.400 well preserved artifacts to help her in the afterlife. Among the symbols of wealth in those artifacts were makeup, a hairpiece and two combs to form a bun behind her head. One comb had wide teeth for untangling, while one had smaller teeth for scrubbing her scalp.
Recommended Books on Cosmetology History
The book, Technique and Art of Marcel Waving, was originally published in 1923, this book will teach you how to create fabulous 1920s waved styles. Marcel Grateau evented his technique in 1882, but it grabbed attention for him when he waved the hair of actress Jane Hading and she wore her newly waved hair for all to see in her play "Le Maitres Des Forges" in 1885. The Marcel Waving technique uses a heated iron to wave the hair. With similar results as finger waving techniques used in the 1920s, the Marcel technique created more lasting results because a hot iron was used to create the wave. This book details the six steps necessary to Marcel Wave. The steps are actually coordinated "movements" made with the iron, comb and hand to create the desired waving effect. The author details each step with both illustrations and text descriptions. After the movements are mastered, you then learn how to join the waves, direct the left and right wave, and drop a wave -- all techniques used to create the hairstyles that follow. Over 45 additional illustrations show you how to create 15 hairstyles including the straight back marcel wave, wave with dip on forehead, horseshoe wave, waving for a center part, wave for a high part, short center parting with bangs, center parting wave for high forehead, waving and curling for a bob, wave for cross parting coiffure, horseshoe wave with bang, wave for a short low parting, waved evening coiffure, wave for a bob effect, side wave arrangement, and evening coiffure with waved wathe.
The book, Manual of Ladies Hairdressing for Students was originally published in 1899, this rare book contains detailed instructions and illustrations for recreating the elegant and romantic styles of the Victorian era. The book begins with details on how to comb, cut, part and fasten the hair before styling and then illustrates how to create the twist, coil, the "8", gordian knot, grecian knot, apollo knot, marteau bow, raised hand bow, raised bandeaux (Marie Stuart style), raised pompadour (Marie Antoinette Style), raised bandeaux worn in Louis XV style, Virgin Mary bandeau, Empress bandeaux (worn by Empress Eugenie), Cleo bandeau, waved coiffure, water wave curl coiffure, catogan plait coiffure, neck coiffure, curled coiffure, high coiffure, coiffure puff (Louis XV), coiffure with puff and side parting, raised wave coiffure, coiffure of waved bandeau, coiffure with comb, coiffure with crescent ornament, ribbon loop coiffure, coiffure with interlaced ribbon, young lady ball coiffure, opera coiffure, grand soiree coiffure, and wedding coiffure. Techniques begin with easy-to-use twists and pinning, with each progressive style getting a little more difficult and/or combining multiple techniques. Long hair can be worked in the styles, but guidance is also provided for adding hair pieces to create fullness. Items such as frizzettes (hair combs with false hair pieces), switches and wiglets are used. Vintage techniques for creating desired effects with hair -- how to make ringlet curls, waves, waving in hairpins, waving on ivory sticks, waving with an iron (Marcel pattern) and water waving -- as well as adding hair ornaments to the hairstyles (ribbons, combs, feathers, flowers) are illustrated with completed hairstyles providing authentic representations of curls, waves and ornament placement worn in the Victorian era. All styles are described within the text with an illustration of the completed hairstyle showing the end results.
The book, Hair Story, covers the history of Black hair in America. Two world wars, the Civil Rights movement, and a Jheri curl later, Blacks in America continue to have a complex and convoluted relationship with their hair. From the antebellum practice of shaving the head in an attempt to pass as a "free" person to the 1998 uproar over a White third-grade teacher's reading of the book Nappy Hair, the issues surrounding Black hair linger as we enter the twenty-first century. Tying the personal to the political and the popular, Hair Story takes a chronological look at the culture behind the ever-changing state of Black hair-from fifteenth century Africa to the present-day United States. Hair Story is the book that Black Americans can use as a benchmark for tracing a unique aspect of their history and that people of all races will celebrate as the reference guide for understanding Black hair.

Quote: Hair Story presents an absorbing rendition of American history told through Black hair. In prose that is both humorous and haunting, the authors manage to bring vividly to life a subject most would consider inconsequential. After reading this comprehensive tale, people will walk away with a whole new appreciation for Black hair and all of its wonder and power. —Lloyd Boston, author of Men of Color: Fashion, History, Fundamentals
The book, Hair Style Design -- 1940s Hairshaping, Finger Waving and Styling Techniques was originally published in 1946, this rare book shows you how to make 22 classic styles. Chapters include Hairshaping, The Finger Wave, The Foundation Curl, Affinity to Curls and Waves, Basic Style Treatment and Combing/Dressing. For those interested mainly in recreating the classic looks, you'll learn how to create fantastic 1940s styles using detailed instructions and over 60 illustrations for the forward curl, reverse curl, half wave, stand-up curl, and how to comb out the curls. The author then presents 22 styles using the 4 curls in simple, easy-to-understand language. If you're interested in more detailed aspects of 1940s hairdressing, the Hairshaping chapter includes 37 pages with illustrations on hair sectioning, relative length, lines of operation, razor tapering, shaping a strand, shaping different sections of hair, tailored neckline, controlling the hair, progressive length, trimming, controlling tools used, the tangent, vignette of neckline, and much more. Finger waving is covered in detail -- parts of a wave, position of fingers, shadowing the ridge, forming the ridge, shifting the fingers, locking the corners, working around the crown, nature of the swirl, and more -- are all covered in both text instructions and are completely illustrated with over 60 line drawings.